Hans Anton Rieder: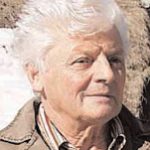 Hans Anton Rieder is a world-famous Swiss water-finder, who views the current water-situation, worldwide as follows:
"The world is not in crisis about water resources, but more in a crisis about the understanding of the origin and the dynamics of the global water system and the energies intrinsically tied to water."
His theory states that there is a whole network of veins of Earth-generated water running beneath the surface of the Earth.
Accordingly, he refers to the type of New Water which flows throughout this distinct water-system within the planet as:
Rieder's theory implies that Vein Water is different to Primary Water, even though both are created by the Earth, within the Earth. He further states that there seems to be a considerably larger water resource in this Vein Water System than exists in the surface water in rivers and lakes as well as in all of the fresh water known to us.
Hans Anton Rieder claims to be able to locate these water veins at every place in the world in the vicinity of 200 meters: in deserts, on mountain tops and on the smallest of islands.
In other words, apart from the surface-water cycle, which is already well understood by mainstream science, there seems to be an unlimited supply of fresh water in the earth, according to Hans Anton Rieder.
His theory appears to be supported to some degree, since Rieder has drilled over 300 wells around the world in the past 30 years, successfully finding water in places where mainstream geologists / scientists declared that there was simply no water to be found.
It is claimed that in almost 100% of the drilled holes, there is fresh water flowing under pressure.
The following are brief details of some of the anecdotal claims made in relation to Hans Anton Rieder's drilling projects:
"When he was looking for water in Eritrea for a Swiss charity helping the desperately needy population, and he let the drilling begin in the place he designated, one of the geologists, who was hired by the Swiss TV team there, said: "There is definitely no water here. This is a very unfavourable place. Drilling a hole here is a waste of time and money. If he finds water here, I will change my profession."
When the boring was successful and the drinking water came bubbling up, the geologist couldn't believe it. (But as far as we know, he hasn't changed his profession!)
He also proved his theory when he started drilling for fresh water on a tiny Pacific island. The island was too small to have any ground water. Against all scientific reason, he found drinkable water there as well – to the delight of the fishermen. Now they no longer have to transport water onto the island.
Up to now, his greatest achievement was for the "untouchables" in the Thar Desert (Rajasthan, India): thanks to 9 successfully drilled holes, 40,000 people from 35 villages are now provided with sufficient drinking water. He has realised what was written 2,500 years ago in the Vedas: 'One day, when everything seems hopeless, the blood of the earth – the water veins hidden in stone – will save mankind.'"
Norbert Cibis: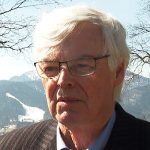 Independent scientific researcher Norbert Cibis was inspired by the research and work of Stephan Reiss, Pal Pauer and Hans Anton Rieder, each of whom have employed dowsing as part of their approach to locating Primary Water (Reiss & Pauer) and Vein Water (Rieder).
He has invested more than twenty years of his life into researching alternative ways of locating water, to provide a more technical approach that may be used to support dowsing, or even instead of dowsing.
As a result of his own pioneering research, Norbert claims to have developed an extremely accurate proprietary method of remotely calculating and pinpointing the following:
It is important to note that the above can all be done by Norbert from his base in Germany, or indeed anywhere else, before any on-site pre-drilling or drilling work is carried out. As Pal Pauer noted in a recent conference call with Norbert and Flowing River Solutions team members, if the claims being made by Norbert can be confirmed, this will make it much, much easier to find the best quality new water sources with minimal or zero test drilling.
In addition to the above, once a potential drilling location for Primary Water or New Water has been pinpointed by Norbert Cibis' approach, he is able to use his on-site monitoring and measuring methodology to support the actual drilling operation as it happens, in order to make sure that the drilling is carried out with clinical precision, so that the drill is guided to the absolutely exact underground location where the Primary Water or Vein Water being sought will be found.
To clarify the importance of the above, Norbert Cibis states: 
"The determination of the drilling point is subject to different requirements, which must be weighed against each other. Main points are the initial depth of the water, accessibility of the terrain, rock types in the underground, possible cavities and cracks near the borehole. Layering of the subsoil, especially sand, clay and quartz layers can cause a borehole to collapse.
As the vein water is basically only found in hard rock, preferably granite and soft basalt, there beginning is of great importance. Thanks to our special technique we can make so-called "virtual" drillings.
We examine the rock and water sequence vertically only at the intended drilling point".